Archive for November, 2006
Microsoft Security Bulletin MS06-071 was released November 15 to patch a vulnerability in their XML Core Services 4.0 (and 6.0). Having nearly 50 servers to update, this can be a real headache. Still, we managed to get all of the important servers (especially the web servers) updated with this patch and the others that were released that day. Yay.
Of course, I didn't realize that after installing all of these patches, some (fortunately non-critical) web code I had written years ago suddenly quit working.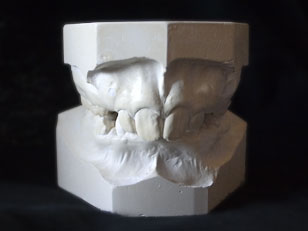 I had braces growing up. This was because of my crowded teeth. You can see this in the inset picture, which is a mold taken of my mouth waaayyyyy back in the dark ages (around 20 years ago.) Unfortunately, all of my kids have inherited my crowded-mouth syndrome so we are going to put braces on four of the five. Our youngest still doesn't have all her permanent teeth, but she will get a retainer in preparation for braces. Man, I thought braces were expensive back in my day.
We decided to go with Drs. Jim and Tom Phalen, who practice what is known as the Damon method which sounds much better than the traditional, sadist method. It involves using a different kind of bracket, one that the wire can slide through. It requires less visits, less adjusting, less pain and shorter treatment. That sounds like a winner all around to me, even if they are a bit pricier.
Of course the total cost makes us gulp a little bit … around $15k. I think I'm going to take that night stocking job at Kroger.
Time to dump your RSS reader and actually visit the site. Yes, I have redesigned (well, at least a little bit.)
I have been fixing a few things that have been bothering me for a while (all while still validating as xhtml 1.1 strict!) and implementing something I have wanted to experiment with for a long time. There is a method of using flash for your headlines while still maintaining an "accessible" website. The method, dubbed sIFR (or Scalable Inman Flash Replacement) seems to work rather well cross-browser as well as cross-platform.
I am using an Apple-like garamond font for my headlines, which I really like. Plus, I have implemented a day-flip calendar theme for the posting dates of entries. I am using a background image that I created using a Paper Curl Tutorial from photoshopgurus.com.