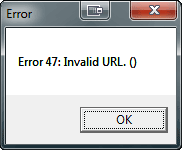 My hard drive crashed on my workstation at the office about two weeks ago, so I took the opportunity to upgrade to Windows 7. Most everything seems to be working well but QuickTime has some networking issues — it appears that it cannot make any HTTP connections. For example it cannot load the "Content Guide" when you launch the standalone player — it just says "Loading…" at the bottom.
It also cannot update the application within the player — instead it displays an error message saying "A connection with the QuickTime software server could not be established. This computer may be having trouble accessing the internet or the server may be off-line."
Finally (and worst of all) it will not load any content from the web. For example, if I try to open an HD trailer from the Apple trailers site, it displays a popup saying "Error 47: Invalid URL. ()
We have verified this on three different computers, two running Windows 7 Professional and one running Windows 7 Ultimate. We also tried every version of QuickTime 7.x we could find, and they all display the same error.
Finally, we tried disabling the firewall and adding an exception for the QuickTimePlayer.exe but nothing seems to fix it.
I am using QuickTime Pro (this is purchased software) so I called Apple support hoping to get a resolution. I spoke with James (who was very friendly) who pointed me to the following article in the Apple discussion boards. I had already seen this in my initial research but, unfortunately, none of the recommended fixes worked for me. After telling James, he informed me that Apple doesn't really do troubleshooting support for QuickTime (O_o) so my only hope was the web site.
So until Apple gets its act together, I recommend NOT upgrading to Windows 7 unless QuickTime is not important to you.
Anyone out there with a similar problem?
Comments (11) »
Leave a Reply